ESTOFEX Storm Forecast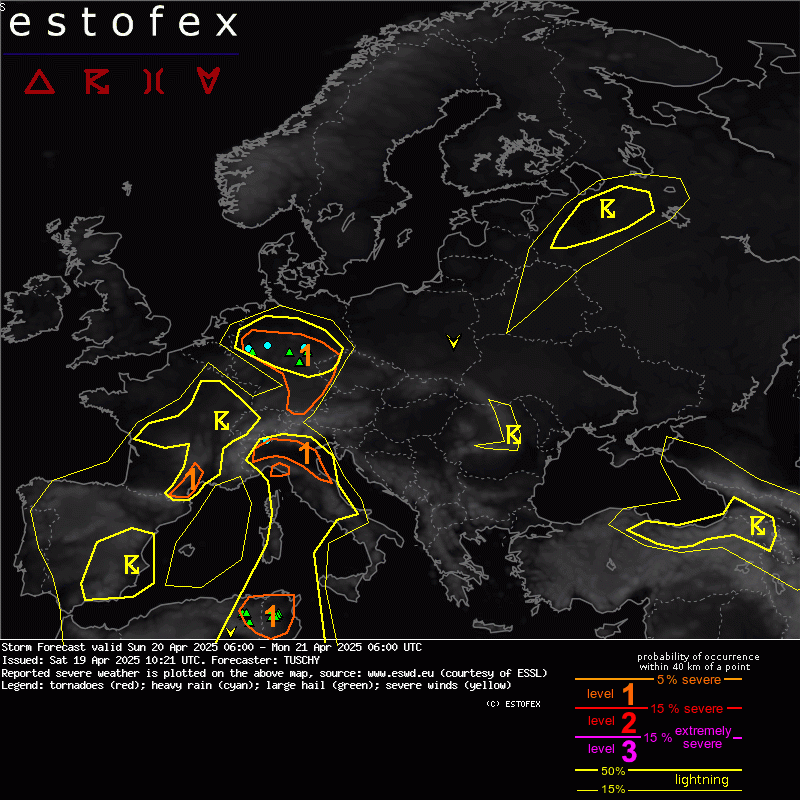 ESTOFEX Forecast www.estofex.org
A level 1 has been issued across the east Mediterranean mainly for severe wind gusts and to a lesser extent large hail.

SYNOPSIS

A very active zonal flow has developed across the Atlantic, with a strong mid-level jet pointing towards the British Isles and the Bay of Biscay. Downstream, a negatively tilted trough axis extends from the North Sea into the Alps and central Mediterranean towards the east Mediterranean. It southern vorticity lobe lifts across the east Mediterranean in the morning. At lower levels, moist air masses are currently present across the east Mediterranean, with dry air spreading east in the wake of a cold front. Rich moisture is also advected towards the Bay of Biscay and Iberian Peninsula. Moderate lapse rates overlap with low-level moisture across the east Mediterranean, in particular Syria. Furthermore, steep lapse rates will develop across the British Isles and western France at the cyclonically sheared flank of the jet streak.

DISCUSSION

East Mediterranean

Thunderstorms are ongoing across the east Mediterranean and Aegean Sea region. Limited CAPE and weak vertical wind shear limit severe potential, however, some waterspouts are forecast. Additionally, onshore flow can support local excessive rain along the southern parts of Turkey. During the day, the cold front will spread east, and convective activity will weaken from the west due to the advection of drier low-level air. Across Israel, Lebanon and into Syria, moisture will increase ahead of the approaching cold front, partly overlapping with steeper lapse rates advecting from the south. Thunderstorm can therefore move onshore and spread east or northeast in the afternoon and evening. Although CAPE will be weak, strong vertical wind shear is expected, and some storms may produce briefly rotating updrafts. Main threat will be severe wind gusts due to the rather dry boundary layer, however, a large hail event is also not ruled out.

Western Europe

The PV intrusion is expected to spread into the British Isles and France late in the period. Stretching will cause steep lapse rates to evolve at low-levels, however, these are mostly not expected to overlap with rich moisture located farther south across the Bay of Biscay. The depth of unstable air is limited and thunderstorms are relatively unlikely. We do not rule out some thunderstorms along the cold front late in the period, though, and given strong vertical shear at low levels, severe wind gusts and tornadoes are not ruled out as well. Overall threat seems to be too low for a risk level.